The life of Tiger Woods is about to become an open book, literally. Hank Haney, his swing coach of six years (2004-2010), has written a tell-all about his experience coaching the former number one ranked golfer on the globe.
The Big Miss
, which comes out in its entirety March 27
th
, has some pretty pejorative excerpts describing Woods as distracted, scattered and even scared when it came to his pursuit of passing Jack Nicholas' 18 Major Championships.
The passages detail that in 2007 when Woods reached 12 Majors, unabridged fear crept into his psyche like the
boogeyman
. Then there's the claim that he went off the rational reservation and conducted four-mile runs in heavy combat boots when he should have been resting his surgically repaired knee. And, there's the parachuting out of planes instead of practicing his putts. Now to be clear we don't know if none, some or all of this will prove to be truth.
We do know that Woods lost his father Earl in 2006, a Special Forces Vietnam Veteran. Losing a father, and in his case a coach, mentor and friend can change a person psychologically no matter how zoned in they were before.
Just look at the ultimate competitor, Michael Jordan. If you said before his father passed in 1993 that he would give up his NBA crown to become a court jester in the Birmingham Barons, a Double-A affiliate of the Chicago White Sox at the peak of his basketball career, people would think you were two flies over the cuckoos nest. But, the love of a son for his father can eclipse and consume even the fiercest sports gods.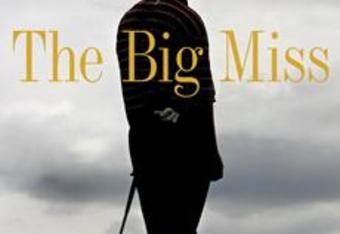 Would it really be that far-fetched for Tiger Woods to honor his father by trading in his clubs for a bayonet?
Having said that, there's only one way he can dispel this book, a singular finite solution of
absolvency
. It's not his agent, Mark
Steinberg
mothering everything with lightweight public relations.
He has to win the 2012 Masters, which begins a week after the book is released. The old saying, "winning cures everything" will hold more water than the Hoover Damn.Haney's book will go from plausible fact to the words of an unfounded gossiper guilty of shameless self-promotion.
In Haney's account, the only thing golf's most prolific closer wanted to close was his career. This book may at its core just be a cashing in of "Tiger Woods Bank International". But, that
doesn
't make his accounts false.
Tiger can prove that what was printed were pages of blatant inaccuracies by once again dominating a golf course. Woods should visualize Haney signing copies of his book, trashing the golfer and collecting yacht-loads of dough. This alone
should
be enough to ignite a fire, scratch that (pun intended), to erupt a volcanic Tiger Woods at Augusta.
This is his golden chance, maybe his last to make right some of his professional wrongs over the past two-and-a-half years. This is the perfect product placement for him. People don't always remember the truth; they remember the last thing they saw. That's why magicians save the best trick for last.
Hey Tiger, when the Masters rolls around in April, write your own Bestseller with a fifth green jacket size 42 Long.
Semper
Fi
.